Rounded Collars, Ruffles and Lace, that is what Little Girl Clothing is made of!!
---
---
Cotton Dresses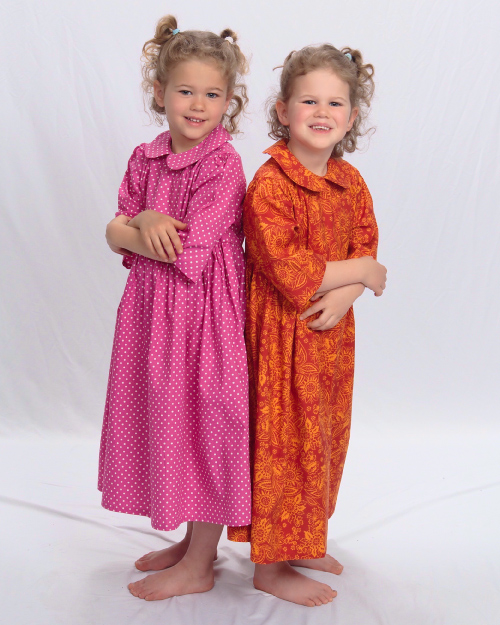 We think you and your daughter will love these dresses. Getting dresses is a snap! They are so easy to put on. 
The sleeved go to about the elbows and the dresses are nice and long and full. The buttons in the back are dyed to match. We offer three prints to start with but would love to add more in the future.  
Our girls have been wearing these dresses almost non stop since they came in. We do have to take the occassional break to wash them! 
Keeping cool in the summer can be a real challenge. These dresses can really help. There is no need for a blouse underneath. This is great news for your daughter and you...one less thing going in the laundry! 
Another beniifit is the natural skin protection they provide. With the sleeves going to about the elbows half the arm is protected from the sun. The dresses are long, so their legs are protected. The top of the dress goes to about the pit of the throat. If needed the collar could be flipped up for protection of the back of their neck.
If you have fair skinned girls you know the challenges of avoiding painful sunburns! Everyone should take precautions to keep your skin healthy and protected. This can be just one more little step to take, and its pretty too!
Click images above to view larger.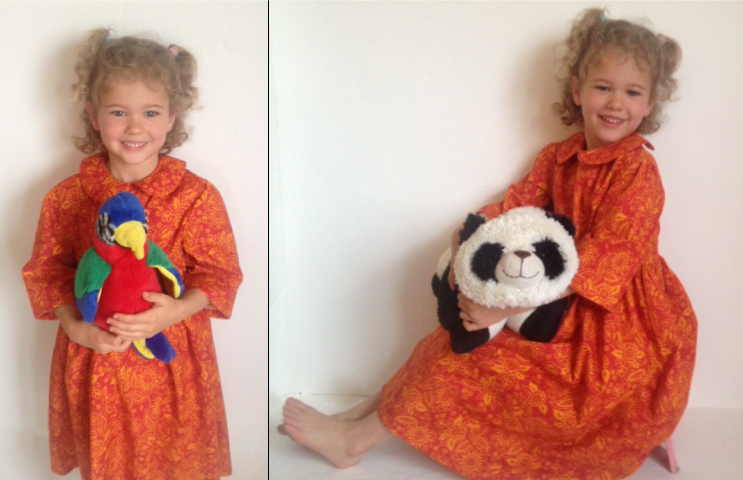 Price = $35.00

Little Girl Jumpers
This is a great addition to our little girl clothing selection. Can you imagine how sweet your girl will look in these jumpers?
Comments
"What a wonderful website! I am first of all reassured that someone else is thinking the same--i.e. the niceness of rounded collars. Also, I had to laugh about the larger sizes in your little girl's closet. I have twin one year olds who are wearing size 3 for the same reason...I just wanted to say how much I am enjoying your site...."
Sincerely,
Mary
She will feel like a princess as she enjoys twirling in the full skirt.
She will love playing in this jumper, as the extra fullness is a natural in keeping her covered. 
Oh So...
Pretty
 In Pink!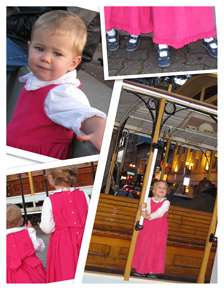 The rich pink fine wale cotton corduroy is embellished with a ruffle on the pocket and at the hem.
The front patch pockets are a favorite for keeping things. Our back ties are self lined to make a beautiful bow. The functional back buttons have been dyed to match.
This darling dress can be layered with our daisy blouse and bloomers for a complete outfit!
---
Available in soft washed indigo blue denim!!!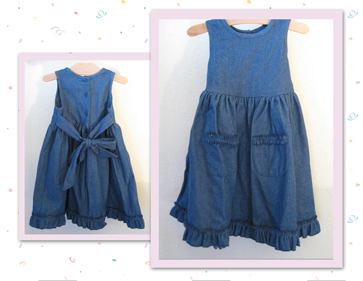 Larger sizes of the jumpers in corduroy and denim are available on our Young Ladies Page.



NOTE: Actual garment measurements are shown.

Approximate Size Chart and Pricing

Size
1
2
4
6
Chest
23"
24"
26"
28"
Length (Shoulder to Hem)
23.25"
26"
31.5"
36"
Price
$27
$27
$30
$30
Please note that the ruffles on the pockets and hem only go up to size 4 on both the denim and corduroy jumpers. 
Machine wash and dry.
Not pre-shrunk.
100% cotton fine wale corduroy.

---
NEW! Little Girl Blouse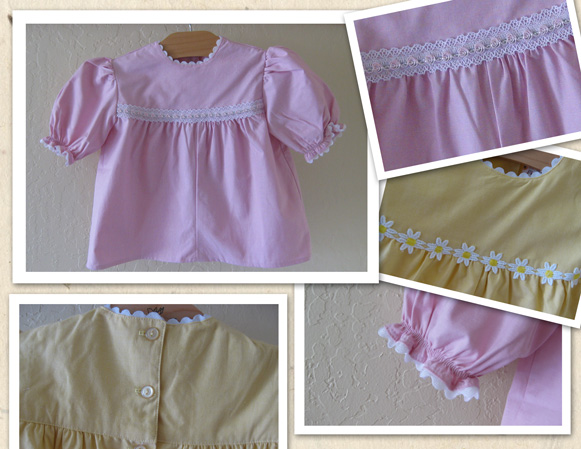 Pink
Delicate lace trim with rose buds accent this lovely little girl blouse.
With rickrack around the sleeves and neck, and the soft pink color, this will help avoid the awkward question, "Oh, is that your little boy or girl?"
Made with 100% cotton.
This blouse is a great fit under our jumper! 
Yellow
This sunny blouse will brighten your day.
A row of daisies across the front decorate this pretty top.
With gathered sleeves reaching the elbow, and rickrack galore, your little girl is ready for a day on the town! 




NOTE: Actual garment measurements are shown.

Approximate Size Chart and Pricing

Size
1
2
3
Chest
24"
26"
26"
Length (center back)
13"
13.5"
14"
Price
$10
$10
$10
---
Doll Clothes to Match!
These doll clothes were made and designed to match the little girl blouse mentioned above.
We also have bloomers to go with the dress for a completely modest doll outfit!
The dress and bloomers fit about 12"-14" dolls (measured from head to toe).

---
Daisy Blouse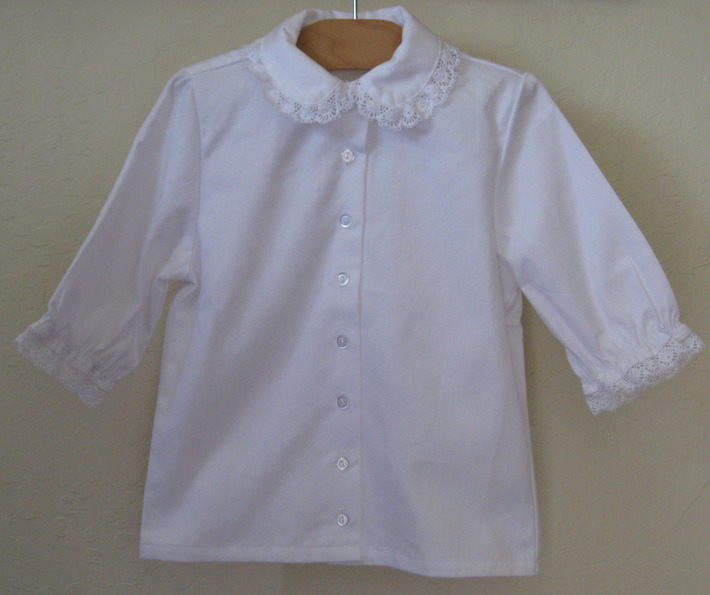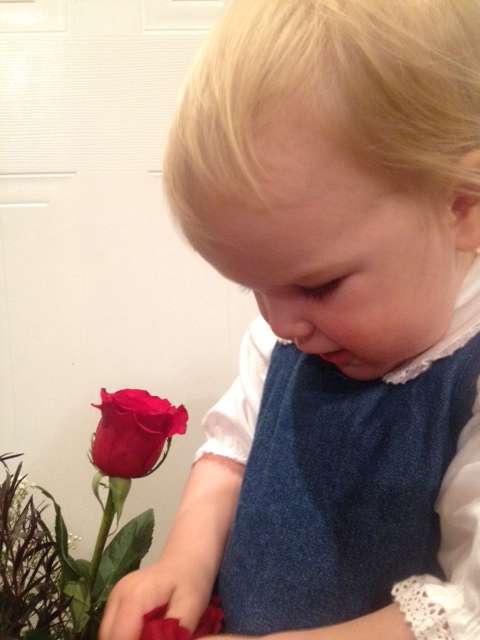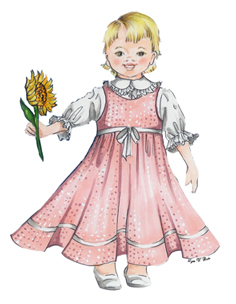 Sizes 2-6
Little girl clothing is so hard to find and this is the sweet little girl's blouse that you have been searching for.
It is made of 100% white cotton twill with cotton crochet lace trim around the collar and sleeves.
The sleeves go to about the elbow, and end with an elastic gathering.

---
This blouse can be worn with a play jumper or under a dress if a collar and sleeves are needed.
You will need a few of these blouses to add to your little girl's clothes to complete her wardrobe. She will not want to wear any other blouse. If she also needs bloomers Click Here!
---



NOTE: Actual garment measurements are shown.

Approximate Size Chart and Pricing

Size
2
3
4
5
6
Width
24"
25"
27"
28"
29"
Length (Center Back)
15.5"
16"
17"
17.5"
18.5"
Sleeve(Under arm seem)
4.5"
5"
6"
6.5"
7"
Price
All sizes are just $15