The Dusters are Back! Simply a must have for modest womens clothing
---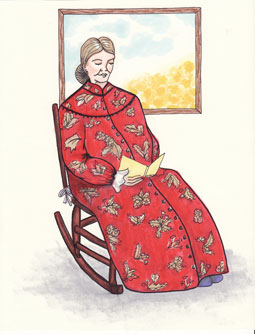 Modest women's clothing is hard to find in this style. Most of today's dusters are scantily made and not very modest. The duster is great for mature women wanting to cover up a bit more. Our product has a very comfortable fit and is even cozier when made in flannel.
This piece of clothing is an excellent option if you are looking for modest maternity clothing for around the house. It is loose fitting and long enough for those bigger bellies.
There are pockets in both side seams. It has a feminine mandarin collar with a 20 inch invisible zipper starting just below the collar. Cotton elastic gathers at the wrist and is loose enough for comfort.
The duster is offered in 100% cotton flannel, or 97% cotton 3% spandex, and also in tencel.
Please be sure to click your browser back button to get back to this page when browsing thumbnails.

---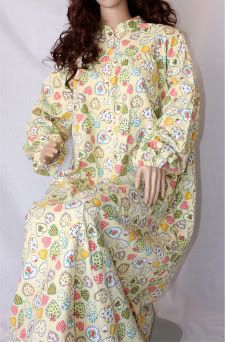 Hurray for Hearts, Flannel $30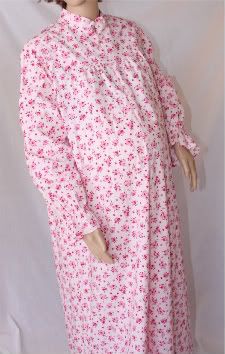 Pink on Pink, Cotton spandex $30
Cozy Cotton, Flannel $30

Blue on Blue, Cotton spandex $30

Hurray for Hearts(Blue), Flannel $30

Flannel $30
This Duster below has a ruffle added at the bottom and we have a very limited quantity, but if it looks like something you might want please email or call us to let us know. If enough people are interested we will make more of them.

Cotton $30

Return from Modest Womens Clothing to the Home Page.


Approximate Size Chart and Pricing


NOTE: Actual garment measurements are shown.

Size
S
M
L
Length
50"
53"
53"
Sweep
70"
74"
78"
Note: Add 3" to the length for Dusters with a ruffle.


Think Maternity Too!!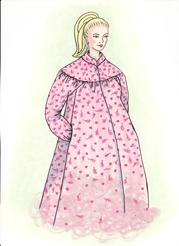 Our dusters are really a very versatile garment. They are also great for Maternity wear, or for nursing moms. Having a roomy design they are great for those expecting mother's. Also, the zipper is a great addition for accommodating nursing, but also allows for easy on and off.