Skirts with Pockets
Our skirts with pockets means modesty plus usability!
Skirts with Pockets are a great option if you are looking for more versatility in a modest skirt. 
We here at Phyllis Jean are proud to provide a skirt that so many have been asking about and are really needing. 

Please enjoy our selection of skirts, and we are sure that one will be a perfect new addition to your new Modest Clothing wardrobe. 
---
Size Chart and Prices

Size
3XS
2XS
XS
S
M
L
XL
XXL
Ideal Waist Range
23-25"
25.75-27.75"
27.75-29.75"
29.75-31.75"
31.75-33.75"
34.5-36.5"
36.5-38.5"
38.75-40.75"
Long
32"
33"
34"
35"
36"
37"
37"
37"
Standard
28"
29"
30"
31"
32"
34"
33"
33"
Prices
$50
$50
$50
$52
$52
$54
$54
$54
Please Note 

Above is our suggestion on what size to order based on an ideal waist and comfort level. If you would like to decide what might be appropriate for your own body type, please see the chart below for actual measurements of the skirt.
---
Actual Skirt Measurements

Size
3XS
2XS
XS
S
M
L
XL
XXL
Relaxed Elastic Waist Measurement
20"
22"
24"
26"
28"
30"
32"
34"
---
Corduroy
A fine wale cotton corduroy that you are sure to enjoy. 

Perfect for those cozy winter days, yet light enough for any time of the year. 

We offer four lovely colors you are sure to enjoy.
Amethyst
Amethyst: The color amethyst is a moderate, transparent violet. Its name is derived from the stone amethyst, a form of quartz. 
Though the color of natural amethyst varies from purple to yellow, the amethyst color referred to here is the moderate purple color most commonly associated with amethyst stones. 

Our corduroy skirt really reflects this description and we hope it is just what you were looking for.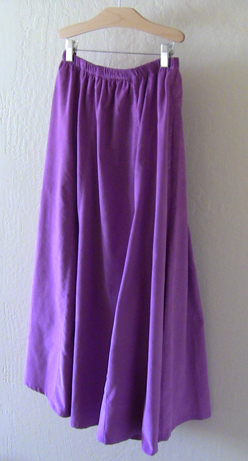 ---

Graphite
The color graphite has the appearance of being a dark gray color. 

Graphite is a popular alternative to black; While silver may be too plain and black may reveal more dirt, graphite is easier to keep looking clean than black or silver. 

The color graphite can be viewed as a professional color. While it does not jump out and scream for attention like a red or yellow color might, graphite is subtle yet refined.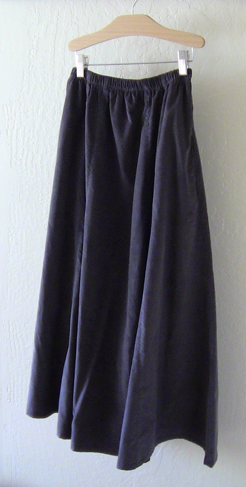 ---

Camel
Its timeless appeal, patrician good looks, and fresh attitude have long made camel a favorite for fashion designers for the very reason that it goes with everything! 

Camel is actually considered a neutral and can go with all sorts of colors from black, red, brown, purple, light blue, off white, denim, etc.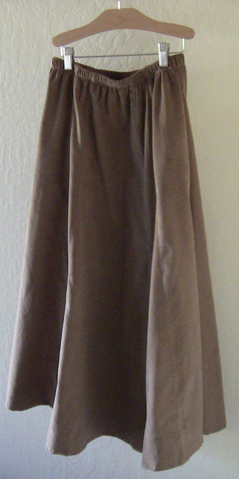 ---

Turquoise
Fashionable and stylish throughout the year, this smart and flexible spectrum can promote subtle drama or tropical zest. 

It works year-round. Add a shot of hot pink, lemon, or chartreuse, and the look is tropical-chic. In velvet or paired with brown or ocher, it's dramatic.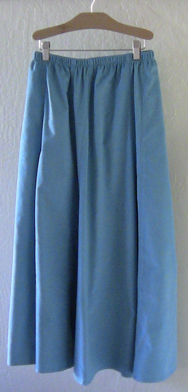 ---

---
Denim
Our Denim is prewashed for a soft look and feel. The flattering 10 gore skirt has an elastic waist, no slit for modesty, and side-seam pockets.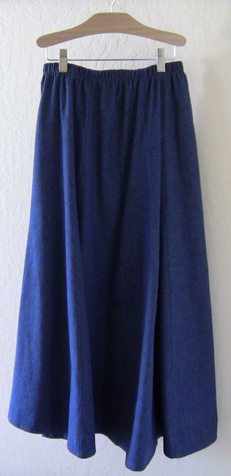 ---

If you would like to return home from our skirts with pockets page please click here.
---