Elegantly modest young ladies clothing
Finally an accessible option for modest young ladies at a great price. Our three year old daughter has a few dresses in her closet that say sizes 6 and 8, and they are a nice length right now!
So we started thinking...what will she wear when she is 6 and 8? We decided it was time to plan ahead and provide clothing for those already in need.
Time to do some "spring cleaning" and fill their closets with Phyllis Jean! Have your girls feel comfortable with what they wear.
---
New Blouse Styles
Mommy and Me Modest Blouses
These are the same feminine blouses that we offer in women sizes, only now they are available for your little ladies. Please refer to our Modest Blouses page for all the detailed info. 
Click here to see more Ladies' Modest Blouses
---
Young Lady's Dress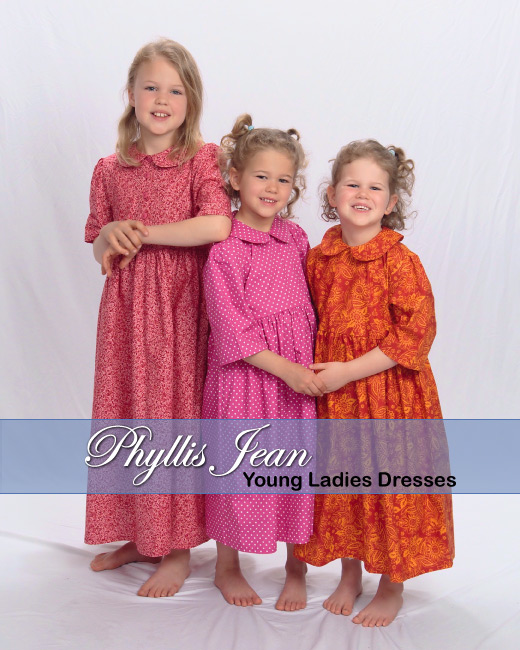 Young Lady Dress shown in Pink Petals,
And Little Girls dress shown Pink Dots and Fall Foliage.
New sun dresses are ready! We live down south and keeping cool in the summer is a real challenge. These dresses are just the thing your young lady need.  They come in one print. We hope these dresses are a big hit and would love to offer many more fabric options in the future! To see what is available for little girls click here.
 After we took some nice pictures for the website the girls were able to wear their dresses for play. They love them! Every so often they have to wear something different so I can wash them! As soon as it's available again it's the first thing they choose. They have become an every day favorite. It's so easy to get dressed now.
 Have you been out to the malls lately trying to get a spring and summer wardrobe for your daughter? The trend is not headed towards modesty! It's not even about feminine prints! If keeping your daughters innocent and covered is important to you you know that it is next to impossible to find what you are looking for in most stores.
You can be confident that our clothes will keep your daughters covered and looking the way they should...like little girls! Enjoy looking around at all our clothing options.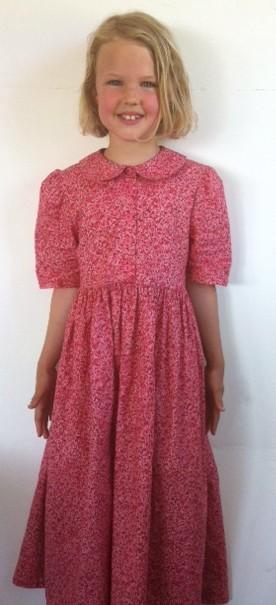 Price = $39.00


Corduroy Jumpers are here!
Available in Berry (shown), Navy, and Denim.
Prices: $32-$35

Comments
"Phyllis Jean is comfortable, feminine and modest. You look and feel like a lady when you wear this clothing."
Sincerely,
Marie

NOTE: Click "Shop Now" to go to store.

Actual garment measurements are shown.

Approximate Jumper Size Chart

Size
8
10
12
Chest
30"
31.5"
33"
Length(shoulder to hem)
41"
43.5"
46"
Sweep
66""
67.5"
69"
We are offering blouses, skirts, slips, and bloomers. We are also working on a dress pattern. Let's have our valiant children enjoy looking elegant and feeling feminine! 
---
Young Ladies Modest Blouses
$22-$24




NOTE:Actual garment measurements are shown.

Approximate Lily Blouse Size Chart

Size
8
10
12
14
16
Center Back
19"
20"
20.5"
21"
22"
Bust
30"
31.5"
33"
34.5"
36"
Sleeve (Under arm seem)
9"
10"
10.5"
11"
12"