Refer a friend Month!
Find out below how to get some STORE CREDIT!
If you received this newsletter from a friend forwarding it to you, please subscribe by visiting www.phyllisjean.net. (The subscription box is at the bottom of the home page, and at the side of all other pages.)
---
July 16, 2010 Issue #3
~Table of Contents~


--The Modest Corner: A Quote of the Month on Modesty

--Website Info: Robby (our website specialist) updates us on the latest website stuff, and explains the promo.

--The Headlines: Poll Results, New Items, and More

--Let us know: Give us your feedback

---
The Modest Corner
Modesty - A Journey of the Heart ~part 1
Posted by: Jennifer Allen on June 29, 2010
"The clothing you wear can be modest, appropriate, and tasteful, or it can be a temptation, embarrassing, uncomfortable, a distraction, grevious to the spirit, and offensive."
---
Website Info
Hi again,

We have completely repriced most of our products! We want to get these clothes out to as many people as possible, so take advantage of this great deal!

We lowered the prices on Women's Blouses, Denim Skirts, Maternity Blouses and Skirts, and Little Girl Blouses.

We have some new tech. additions to the website! If you haven't seem them yet they turned out pretty good. We added some new slide shows to the website!

It was and is a rather tedious process in getting them "web ready", but it is definitely worth it.

The girls were happy to go to the County Fair and the beach to get some good pictures!

Here is the link to the slide shows: Slide Shows

We may be doing some videos in the near future to show the movement of our skirts, so check back often.

I will explain the promotion in this section because it is a little tricky.

We are doing a "refer a friend" promotion this month and next month. Here is how it works:

Email us your friends First and Last name, and if they order $35 or more you get $10 store credit!

Please put "refer a friend" in the subject line of your email so we don't miss it! And that's it.

That's all from me the Website Specialist.


---
The Headlines
Poll Results
Well this was an interesting poll. It gave us some great ideas, and new directions to go! Here are the results: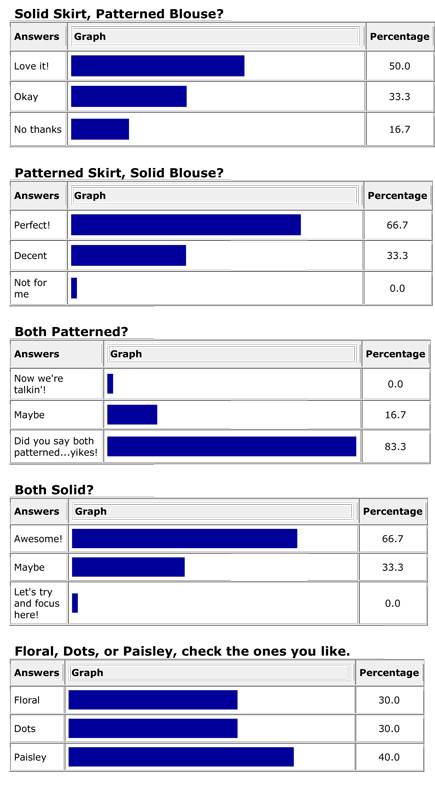 We have some cute polka dot fabric ready to go for our next "batch" of clothing. We are thinking of using it for the ladies blouse and also for maternity.

When we make new maternity blouses we will be adding the next size up, 2XL ! We also have some fun and cheery cherry fabric to cut up too. As we get into Fall we'll have to keep our eye open for paisley prints as that was the number one choice for you.

---
New Skirt Colors ~Updated~
We got the skirts from the dye factory! We are preparing them for the web, so it is only a matter of days and they will be available!



A New Skirt! ~Don't forget~ ~Updated~
The skirt pictured below is ready for orders!
---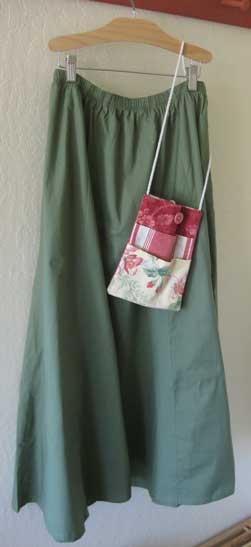 ---
New Blouse ~Updated~
This is ready for purchase!
Click here to go to our store.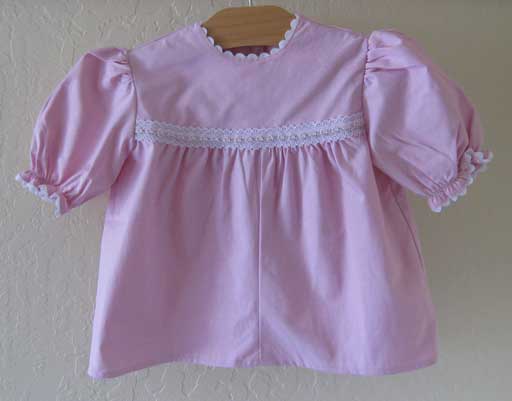 Thank you all for subscribing and we will see you again next month.

If you have any feedback you would like to share with us we would be happy to hear it. Simply reply to this newsletter.


Thank You,
Phyllis Jean and company

~Disclaimer~
The quotes or articles we use throughout our web site and in our newsletter are relevant to modesty and other interesting topics.

We do not necessarily agree with everything the author has to say or what they believe.