Time to Shop
We are offering free shipping!
If you received this newsletter from a friend forwarding it to you, please subscribe by visiting www.phyllisjean.net. (The subscription box is at the bottom of the home page, and at the side of all other pages.)
---
November 20 Issue #8
~Table of Contents~


--Bring a friend!

--New style of skirts!

--Bamboo keeps you warm! Read this to see why.

--Phyllis Jean is reaching farther!
--Let us know: Give us your feedback

---
Bring a Friend
We wanted to offer a new promotion for everyone, but we thought we might make it a bit easier for you to qualify.

We are offering free shipping within the U.S. on orders over $125.

Only need a blouse or two? Simply find a friend who is also interested in Modest Clothing, and order together. It is that Easy!

The code to enter is: 11shipfree
New Style of Skirts
Corduroy
If you haven't noticed yet we have introduced a new style of skirt.

We have four new colors of corduroy all with pockets!

There are two basic colors, and two pretty soft colors to brighten your winter!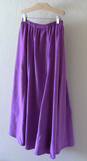 Denim
Our denim skirts are new and improved!

We have not only added pockets like our corduroy, but we also adjusted the lengths for an even more comfortable fit.

Check out all our new skirts by clicking below.

Please notice the size chart on this new page. It is specific to these new skirts.

We want people to be able to make there own decisions as to what size they need, so we are now going to provide the relaxed waist measurement for all our skirts. The other size charts on our site will be updated soon.

New Skirts Page
---
Bamboo for Warmth
Bamboo clothing is an excellent fabric choice for our modest leggings and it has many benefits and advantages over traditional cotton.

Bamboo fabric is softer than cotton with a texture similar to silk which really makes wearing these leggings a comfortable choice.

It also wicks away moisture quickly, therefore keeping you dry, and it has natural anti-bacterial properties. That is key to how bamboo keeps you warm.

It has insulating properties, but maintains good regulation of body heat and moisture. All very important components in a garment that is meant to keep you warm.

Click here to go to our Bamboo page.

---
Reaching Farther
We here at Phyllis Jean are always trying to reach more people and to get them the Modest Clothes they are looking for.

We have been very appreciative of everyone's efforts in spreading the word about our company.

Just recently we were added to another Modesty Resource Website.

If one were to sit down and compare our prices to any other high quality clothing store you would see that our products are priced not to make us a fortune, but to get Modest Clothing to as many people as we can.


Don't Forget
Our doll clothes are a great buy for your little modest girls!

Click here and scroll down for the doll clothes.
---



Thank you all for subscribing and we will see you again next month.

If you have any feedback you would like to share with us we would be happy to hear it. Simply reply to this newsletter.


Thank You,
Phyllis Jean and company

~Disclaimer~
The quotes or articles we use throughout our web site and in our newsletter are relevant to modesty and other interesting topics.

We do not necessarily agree with everything the author has to say or what they believe.