Denim Skirts For Women
Our ten gore long modest denim skirts for women gradually become nice and full as you go down to the hem. This denim skirt will keep you covered in almost any situation. You won't be troubled pulling and tugging at at your skirt with less fabric as you move about. The fullness of our skirt does not add any bulk. We use the fabric necessary for it to flow gracefully with you as you move.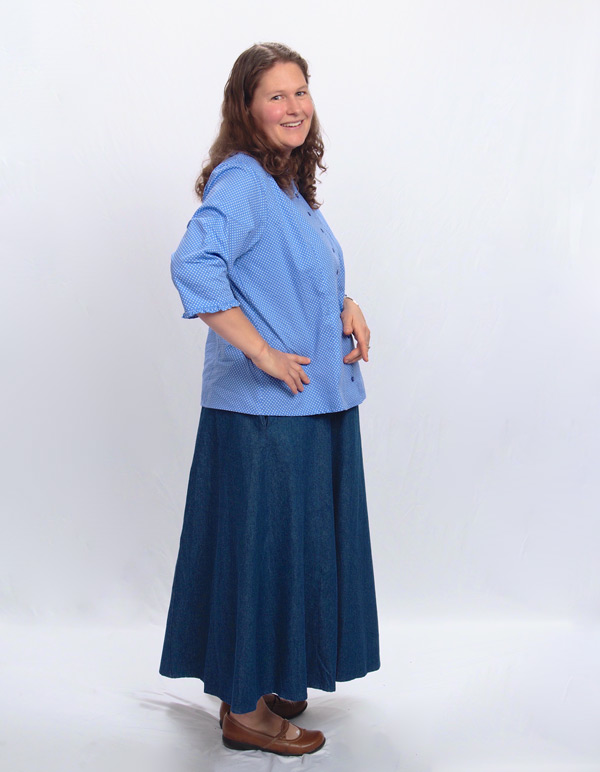 Modest Denim Skirts for Women
10 pieces make up this fun, flowing modest skirt. Made to fit and flatter in soft washed premium denim. Ankle length for a long lean look. Another great feature is that denim matches everything.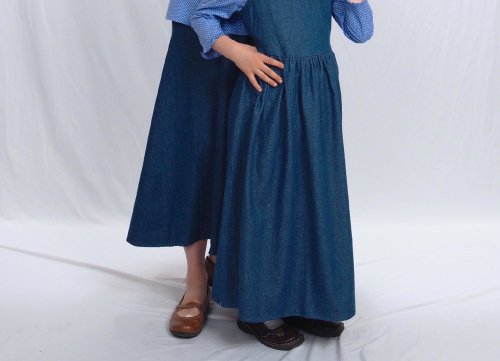 Comments
Dear Phyllis Jean,
I recently found your webstore and I love your modest ladies' clothing! Thank you so much for providing lovely clothing for the women who are trying to dress appropriately. Thank you so much for helping.
I can't tell you discouraged I often feel with the clothing market the way it is today!
Sincerely, Rachel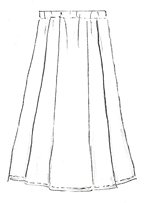 See our sizing chart below for our denim skirts long and short, and plus size denim skirts, too.
Modest Denim Skirts 
Our Denim is pre-washed for a soft look and feel. These flattering 10 gore tall denim skirts have an elastic waist, no slit for modesty, and the option of having side-seam pockets or not. Just choose that option when you place your order.
See below for Sizing Chart and Prices.
$45

---
Size Chart and Prices for Ladies Long Skirts
Size Chart and Prices

Size
XS
S
M
L
XL
XXL
Waist Range
27.75-29.75"
29.75-31.75"
31.75-33.75"
34.5-36.5"
36.5-38.5"
38.75-40.75"
Standard
30"
31"
32"
34"
33"
33"
Long
34"
35"
36"
37"
37"
37"
Tall
35"
38"
38.5"
39"
39.5"
40"
Please Note 

Above is our suggestion on what size to order based on an ideal waist and comfort level. If you would like to decide what might be appropriate for your own body type, please see the chart below for actual measurements of the skirt.
We obtain the relaxed elastic waist measurements by laying the garment out flat and measuring the length of the elastic. This is a useful measurement as you can measure the length of the elastic in a garment that you like and then decide on the slip that comes closest.
Actual Skirt Measurements

Size
XS
S
M
L
XL
XXL
Relaxed Elastic Waist Measurement
24"
26"
28"
30"
32"
34"
In our denim skirts we use a soft medium weight denim. It washes up nicely. This denim skirt is a classic every day skirt that will stay in style and can go about with you everywhere!
Maternity Denim Skirt
---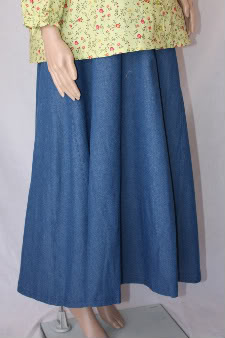 Are you looking for a maternity denim skirt? Our denim maternity skirt is the same pattern as our popular denim skirt above, just modified to be a maternity skirt!