Modest Blouses
Let us introduce these modest blouses to you. We have feminine details. We have spent years coming up with this pattern.
We feature rounded collars and appropriate button spacing.
Our blouses do not have a "man's stand" in the back of the neck to make it stand up. To keep the blouse collar's shape without the stand we added a fitted piece of interfacing.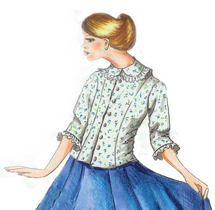 No "stylish v-neck" cut in the front. This blouse is meant to be buttoned.
What kind of buttons do we use, and what is unique about them? We use smaller buttons that are custom dyed to match the blouse.
We have the buttons spaced about every two inches. This is a unique feature which is not likely to be found on most other blouses in department stores or online.
---
The Bodice of our Modest Blouse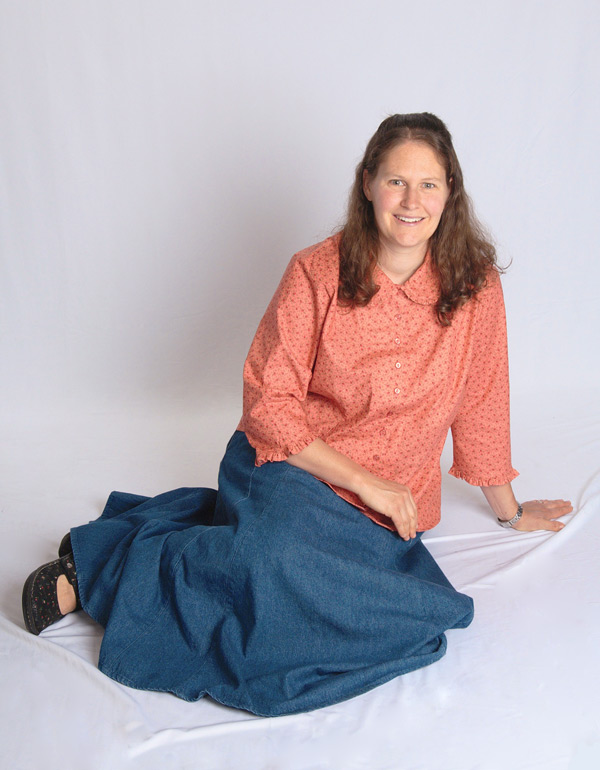 What is different about our modest blouse bodice? We have used eight bodice pieces for a feminine fit. The factory we work with takes the time to cut and sew the curved pieces of this intricate blouse for you.
The way a man's shirt is cut is by using a front and back piece with large arm holes and large sleeves for an easy fit. This simple pattern was made popular with woman's "shirts" with the introduction of unisex clothing.
Now companies can produce clothing quicker and cheaper for women and make more of a profit because it takes a fraction of the time for a shirt to be put together!
Well we are trying to go back to the way fashions were. So you can definitely tell the difference between men's and women's clothing.
The Sleeve
Comments
I received my package to day and I am thrilled. I have blouses that fit are well made and that look feminine! Thank you for sending the swatches. It really helps to see them. I had no idea what tencel felt like and I like it. I will definitely be ordering again.
Mary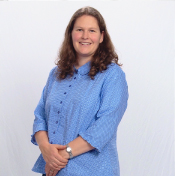 Our sleeves go past your elbow, about 3/4 down the arm. At the end of the sleeve we have a subtle feminine ruffle. We like our arms to be covered and enjoy a comfortable fit.
You may think that these sleeves are too warm in the summer months. Actually keeping covered in natural fibers and looser fitting clothes can keep you cooler.
The other benefit to covering up more is lessening the chance of getting sun burned.
Peter Pan Collars
These collars are usually flat with rounded edges. They can be various widths. Peter pan collars are a classic style and are a staple for our modest blouses. You can also find them on dresses, jackets, shirts, and coats. 

A few reasons why people like the peter pan collar are their feminine appeal, they can soften a very strong shoulder line, and they have a ladylike and whimsical effect.

The peter pan collar looks sweet, and girly. People feel that they appear more friendly and approachable in a peter pan collar. 

On the flip side the women's shirts that have the pointed collar convey the ideas of strict, crisp, masculine integrity (as put by a fashion author who happens to like both styles).


Shown in Lovely
If you have chosen to change your style of dress and want to have a sweet feminine look, then we can help. All our blouses offer the lovely, stylish peter pan blouse you are looking for. 
There are many prints to choose from or you can stick with the classic white twill blouse. These modest peter pan blouses will last for a few seasons, and because they have a classic feel they will always be "in style".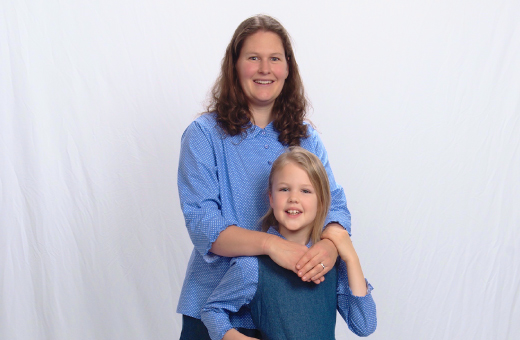 The Material
Most of our modest blouses are made from 100% cotton.  A few have some spandex with the cotton.  Some are made from a very soft tencel.
These clothes breathe and keep you cool and comfortable. Once you get away from that static cling you will never want to go back.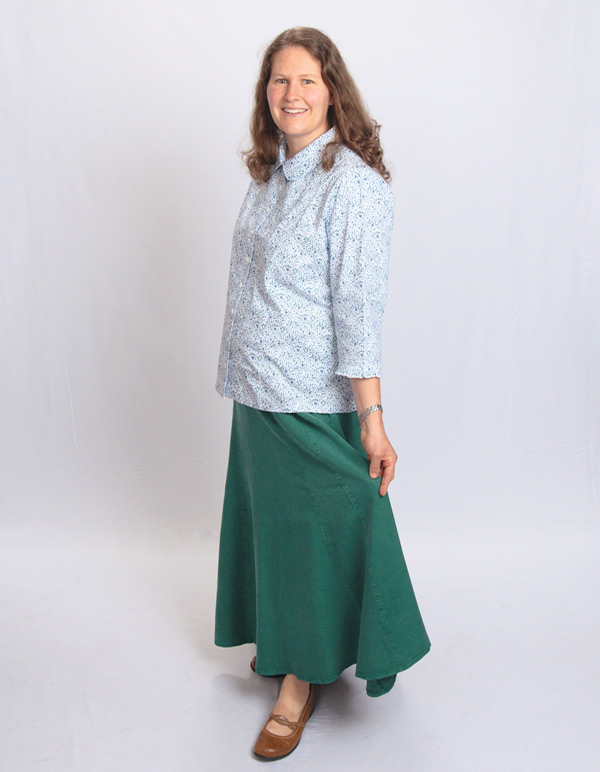 The Size
We offer an incredible range of sizes so most women can enjoy our clothing. The professional pattern maker we work with took our original pattern and using the best computer software graded our pattern up and down giving you eleven different sizes to choose from.
We did this because we are so happy with the blouse we wanted to share it with as many women and young ladies as possible.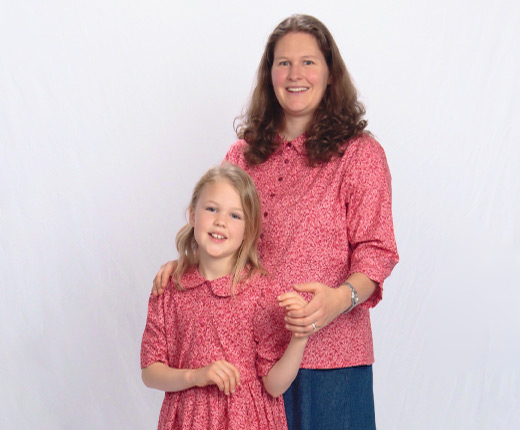 Ladies Blouse in Pink Petals
These modest blouses have the qualities ladies are looking for in modest tops. A dream come true…rounded collars, classic princess seams, ruffles at the elbows, and buttons every two inches. Layer it with our bamboo blouse and pair it with our skirts!
If you are looking for maternity blouses, head on over to our maternity page. 
Enjoy looking around, and again thanks for visiting our website!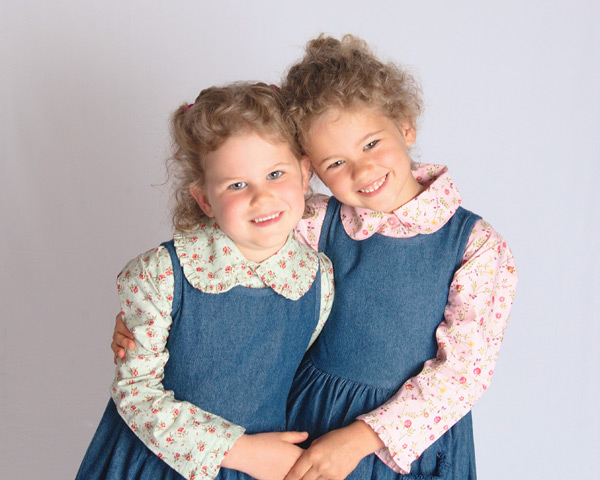 Meadow Flowers and Pink Floral shown above.
Since the sizes on these blouses go down to size 4XS, they work well for your young daughters as well!

New Autumn Blouse Available!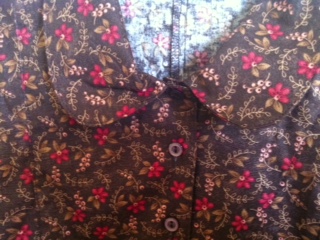 This is our new blouse (Chocolate) which will be a great addition for your fall-time wadrobe. Check it out at our store!

5 New Prints Available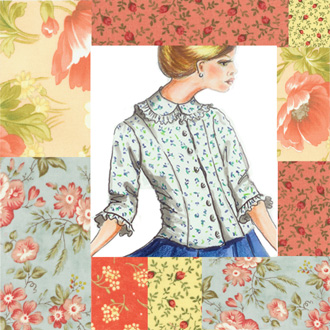 So Many Choices!
Click on pictures for larger view! Each blouse has feminine details like lace or a ruffle at the end of the sleeve!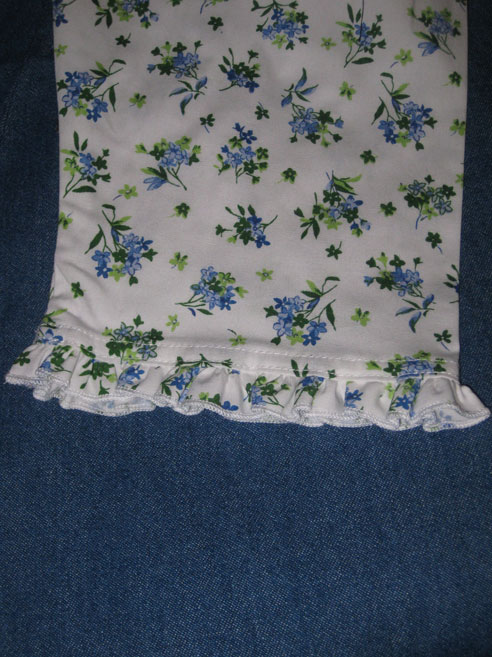 Ruffle at the end of the sleeve!



NOTE: This chart shows what size the actual garment measures.

Approximate Size Chart

Size
XS
Small
Medium
Large
Extra-Large
Bust
38"
42"
44"
47.5"
49.5"
Length (Center Back)
23.5"
24"
24.5"
25"
25.5"
Prices
$42.95
$42.95
$42.95
$42.95
$45.95
White Cotton Twill Blouse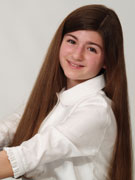 These white twill blouses are great under jumpers or as part of a uniform. They are even great just by themselves matched with our denim skirt. They are now on sale for only $19.95 each. These are made with a medium weight cotton so as not to be sheer.
---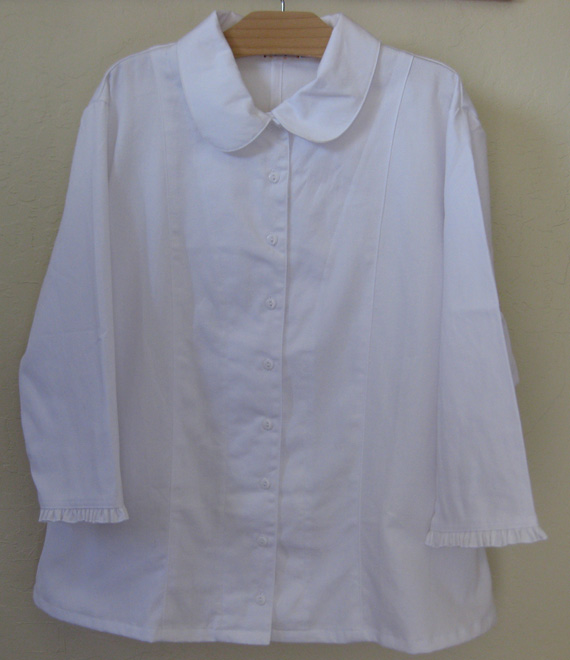 Now on Sale - $19.95