Long Jumper Dress
A long jumper dress is a staple item for any little girls wardrobe. It can be dressed up or down. With a full skirt these jumpers are perfect for your active girls and also feels fun for your girly girls!
For the little girl sizes there's ruffles at the bottom of the skirt and on the pockets. And for the older sizes we've kept things simple without the ruffles and front pockets.
Little Girls Long Jumper Dress
Versatile clothing jumper dress makes a great combo with all your turtlenecks and blouses which can either dress it up or down and gives you great options whether it's cool or warm days.
This is a great addition to our little girl clothing selection. Can you imagine how sweet your girl will look in a long jumper dress?
Comments
"What a wonderful website! I am first of all reassured that someone else is thinking the same--i.e. the niceness of rounded collars. Also, I had to laugh about the larger sizes in your little girl's closet. I have twin one year olds who are wearing size 3 for the same reason...I just wanted to say how much I am enjoying your site...."
Sincerely,
Mary
She will feel like a princess as she enjoys twirling in the full skirt.
She will love playing in this jumper, as the extra fullness is a natural in keeping her covered. 
Oh So...
Pretty
 In Pink!
---
The rich pink fine wale cotton corduroy is embellished with a ruffle on the pocket and at the hem.
The front patch pockets are a favorite for keeping things. Our back ties are self lined to make a beautiful bow. The functional back buttons have been dyed to match.
This darling dress can be layered with our daisy blouse and bloomers for a complete outfit!
Available in soft washed indigo blue denim!
---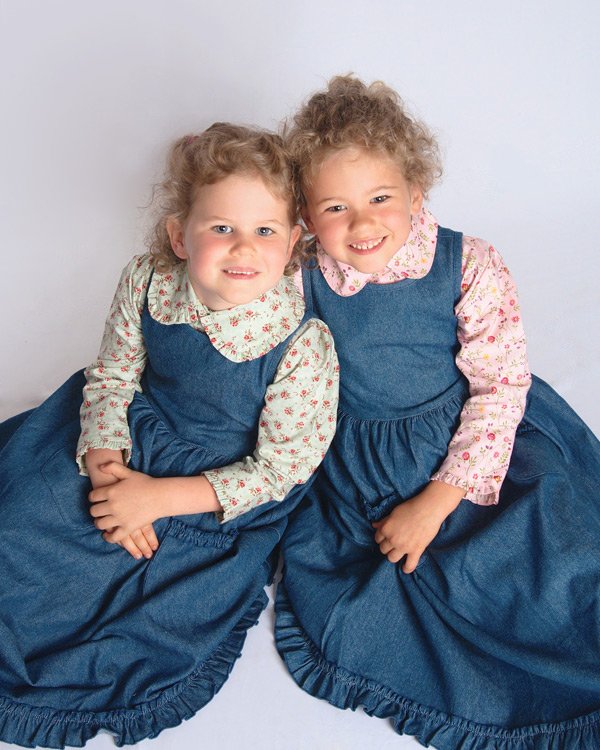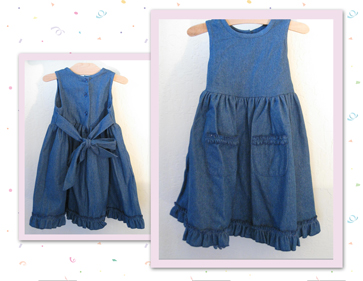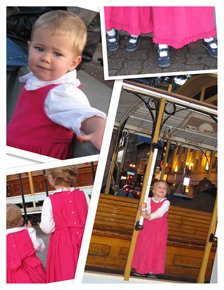 Larger sizes of the jumpers in corduroy and denim are available below.
Please note that the ruffles on the pockets and hem only go up to size 4 on both the denim and corduroy jumpers. 
Machine wash and dry.
Not pre-shrunk.
100% cotton fine wale corduroy.
---



NOTE: Actual garment measurements are shown.

Approximate Size Chart and Pricing

Size
1
2
4
6
Chest
23"
24"
26"
28"
Length (Top of Shoulder to Hem)
23.25"
26"
31.5"
36"
Price
$26
$26
$26
$26

---
Elegantly Modest Young Ladies Dress Jumper
Finally an accessible option for modest young ladies at a great price. Our three year old daughter has a few dresses in her closet that say sizes 6 and 8, and they are a nice length right now!
So we started thinking...what will she wear when she is 6 and 8? We decided it was time to plan ahead and provide clothing for those already in need.
Time to do some "spring cleaning" and fill their closets with Phyllis Jean! Have your girls feel comfortable with what they wear.
 Corduroy Jumper Dress
Childrens clothing girls jumper dress available in Maroon, Navy Blue, and Denim.
Denim Jumper Dress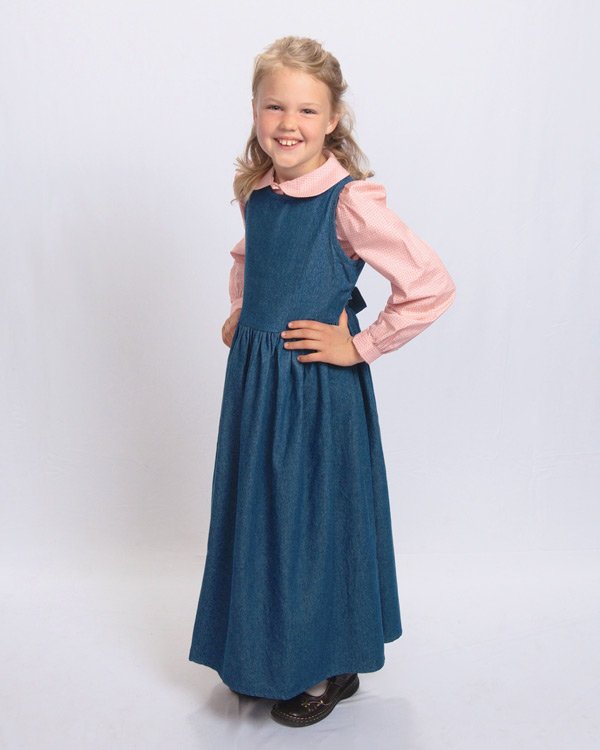 Click on the images to view larger!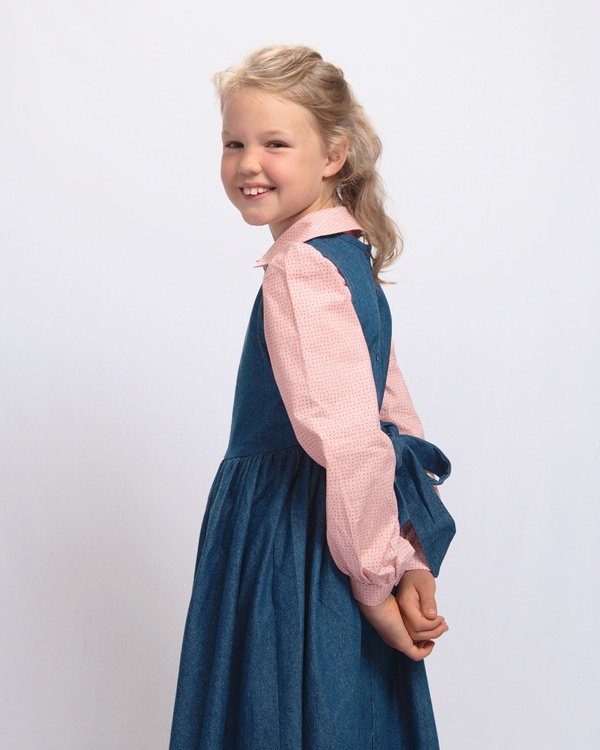 Prices: $32-35
Now on Sale: $29

Comments
"Phyllis Jean is comfortable, feminine and modest. You look and feel like a lady when you wear this clothing."
Sincerely,
Marie
We prefer our skirts and dresses to be ankle length. the girls dresses and jumpers are made long and are easy to hem. There is no flare to have to fuss with in our dresses and jumpers. They can be easily hemmed up and then let down as your little girl grows. Our generous use of fabric allows for freedom of movement while she retains her sense of modesty. 

NOTE: Click "Shop Now" to go to store.

Actual garment measurements are shown.

Approximate Jumper Size Chart

Size
8
10
12
Chest
30"
31.5"
33"
Length(top of shoulder to hem)
41"
43.5"
43.5
We are offering blouses, skirts, slips, and bloomers. Let's have our valiant children enjoy looking elegant and feeling feminine! 
Home › Modest Clothing Long Jumper Dress