Maternity Denim Skirt
Many moms agree that a maternity denim skirt is a must for those that are expecting. It's comfortable, goes with everything and is easy to wash! We know this denim maternity skirt will soon become one of your favorite pregnancy skirts!
The 10 gored panels of this flared, flattering and feminine style will keep you looking good all 9 months long and after. The full long skirt allows for freedom of movement whether sitting or playing with your little ones on the floor.
You will feel comfortable and covered in this skirt with no need to be constantly checking yourself as you adjust to your new body shape. No slits up the sides just so that you can move. These skirts are long enough and full enough.
This skirt is a modification of our popular ladies denim skirts to fit your maternity needs. We have done the work of modifying your favorite skirt so that you'll be comfortable and happy throughout your pregnancy.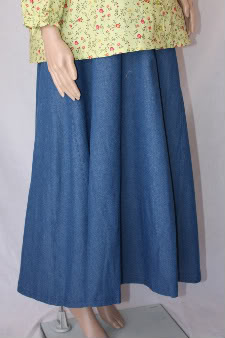 Maternity Denim Skirt
The fabric is made of 100% cotton denim; a cool breathable fabric, great for even the hottest days of summer. The medium weight washed denim is soft yet sturdy enough to last some time. 
The generous cotton spandex front panel at the top of this skirt makes it comfortable to wear as you grow. We have tabs on each side of the panel with three button holes on each tab. The elastic can be adjusted for growth and comfort making it so that you can wear this skirt during the full length of your pregnancy and for many weeks postpartum until you reach your previous size!
Long Maternity Skirt
Do you like the look of denim long maternity skirts but wish they were a little less stiff? Our ten gore skirt is a great addition to your maternity clothes. This skirt is light weight and has a comfortable elastic waist band.
If you are looking for maternity clothes plus size, this skirt goes up to size 2XL. Check the size chart below to see what size you are.
Now on Sale - $39.00

Approximate Size Chart and Pricing

Size
3XS
2XS
XS
S
M
L
XL
2XL
Approx. Waist Range
27-29"
29-31"
31-34"
34-36"
36-38.5"
38.5-41.5"
41.5-44.5"
44.5-53"
Length
33"
34"
35"
38"
38.5"
39"
39.5"
40"
Cute Maternity Clothes
---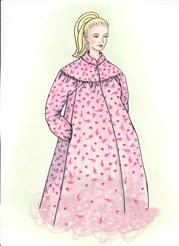 Looking for more cute maternity clothes? Check out our cute maternity shirts and our womens dusters.
Home Page › Modest Clothing Maternity Denim Skirt